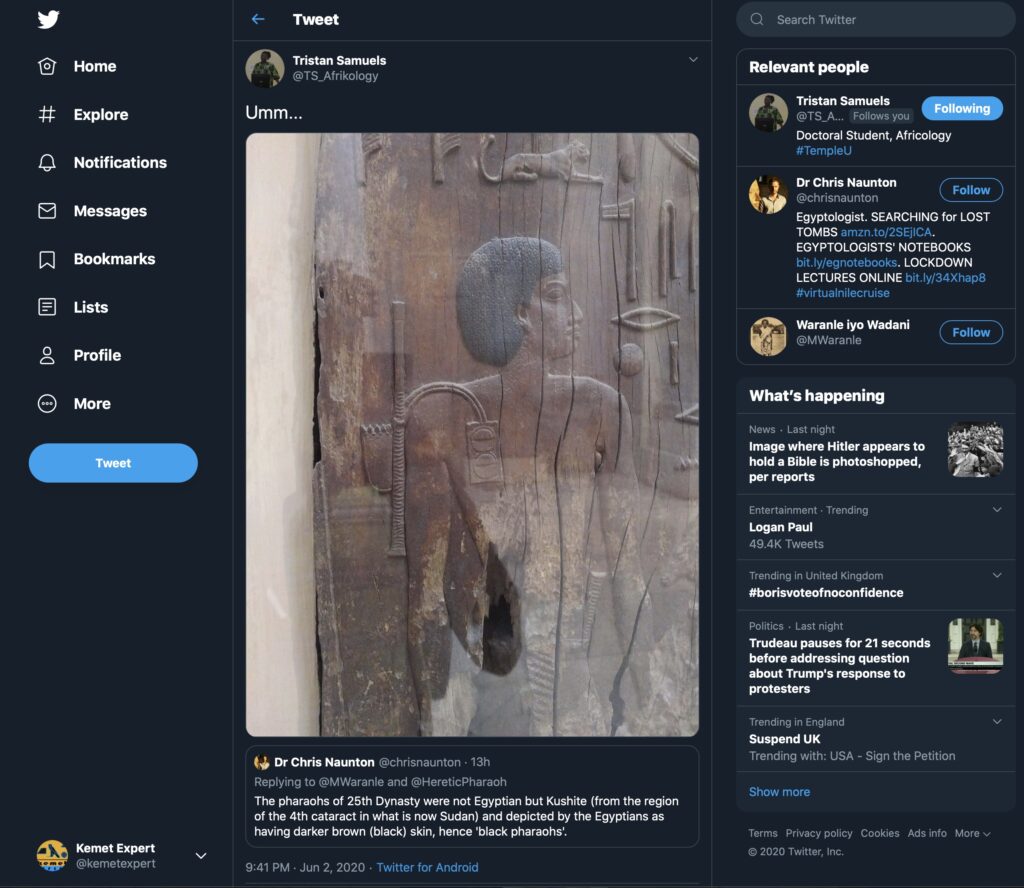 "Black" pharaohs again
The photograph (above) shows a panel of a Third Dynasty official named Hesy-Ra and was found at his mastaba (tomb) in Saqqara. Hesy-Ra was an important man and held a number of titles, including one that has subsequently been interpreted as dentist (Great ivory cutter). The panels are of considerable interest because they show Hesy-Ra aging over time and thus are cited as an attempt to represent the subject not only so that he is recognisable, but realistically so. I mention this because many Egyptologists often declare that ancient artists did not seek to represent the physical appearance of the subject in their portraits. This has become another way of denying pictorial representations to identify the racialised identity of the people of Kemet. Like the idea of designating the descriptor of Black Pharaoh to the Twenty Fifth dynasty rulers, this reaction has become the norm.
However, I digress. The panel was used (extremely effectively in my opinion) by @TS_Afrikology to respond to the an earlier tweet: The pharaohs of the 25th Dynasty were not Egyptian but Kushite (from the region of the 4th cataract in what is now Sudan) and depicted by the Egyptians as having darker brown (black) skin, hence 'black pharaoh'.
It is no secret that Egyptology is embedded in the racist ideologies of those who founded the discipline. I have written and spoken about this at length in the past. This blog has also discussed how problematic using the term "Black Pharaoh" for rulers from Sudan, while excluding those from Ancient Egypt, really is. And there have been guest posts on the subject by S.O. Keita. However, seeing this tweet yesterday (at a time when there is a growing a international pressure to address systematic racism and inequality and with a focus on people of African descent) made me wonder why an academic discipline that studies an African culture isn't also reflecting on its interpretation of the construct of race.
Rather than responding in a manner that can appear defensive and authoritarian, Egyptologists today could open up a dialogue and perhaps review their stance on the use of a modern racialised term that most are simply not qualified to judge. Now would be the ideal time to start. And White academics need to understand that they are not qualified to tell people of African heritage and descent who is black and who is not.